GETTING YOUR BUSINESS STARTED
The FACCSCV is part of the network of Silicon Valley Small Business Development Center (SVSBDC) that advocate for the need of the Filipino-American business owners in Silicon Valley.
Our Chamber can help you with:
Business Planning (in partnernship with Small Business Devt Council)
Marketing strategies and planning
Sales
Access to capital, including bank finance, SBA loans, and asset financing
Venture funding
Government contracting
Strategic technology acquisition and practical, hands-on application
Financial Projections and Budgeting
Operating challenges
Federal, State and City Compliance with the current laws and regulations
Staffing Requirements
Company Structures
and more…
All of our Business Advisors are functional experts in their field with extensive experience in working with small businesses. All of them have run one or more small businesses of their own.
The Filipino-American Marketplace
Silicon Valley is a home to a large population of Filipino-Americans in the United States. One of our missions is to introduce the benefit to our kababayan the products and services provided by our own kababayan here in the US and also in the Philippines.
By having some common status, relational and similar cultural experience, we can build a sustainable community that could also lead to preserving the good Filipino heritage and adapting to the modern American society that we live in.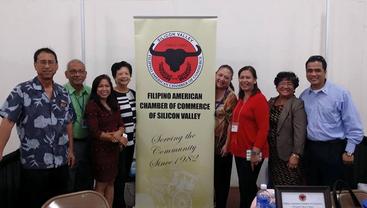 SOME OF THE MEMBER BENEFITS:
Business and Trade Information & Referral

Small Business Assistance – Business start-up, loan application, business planning, certification application as small disadvantaged business and trade assistance – participation in trade missions, conferences and exhibits
Business Seminars and Workshops
Two Hours of Business Consulting
Publications and Mailers
Invitation to "Members Only" Events
Employment Referral
Community Outreach
Discounted Rates for Advertising in Chamber Publications and Chamber websites